Starting a physical therapy practice of your own is an exciting endeavor. If you've already done so, you probably love the independence, along with the rewarding feeling that goes along with helping others heal. However, running an independent practice comes with lots of challenges, and frequently, owners aren't able to earn as much as they should. That's where partnering to start a physical therapy practice with FYZICAL comes in handy! Check out five ways we can help your business to grow and thrive!
#1. Increase Service Offerings
As a FYZICAL member, you're in control of the services your business offers. With that said, there are many advantages to adding new services. You can help more people with a broader range of issues while also boosting your bottom line and diversifying revenue streams. Don't have experience with services like audiology or balance? Don't worry – we can help you integrate them seamlessly into your practice!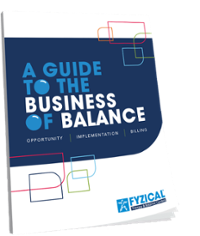 Check out this free eBook on the opportunity in balance therapy!
Learn how our proprietary system, 'The Balance Paradigm' is helping physical therapy practice owners broaden their outreach and help their community. Download the free eBook today!
#2. Marketing Support for Physical Therapy Practice Owners
As an independent owner, you might not have time to invest in marketing. When you convert or start a physical therapy practice with FYZICAL, we can help you revamp your marketing program to get you better results for the budget that fits your practice. Our turn-key marketing materials are ready easily customized for your practice. Best of all, our experts can help you understand how to monitor your marketing to ensure it's working effectively.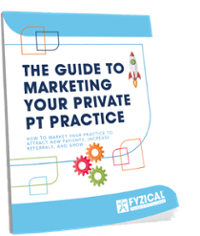 Want to attract new patients and grow your practice?
Download the FREE Guide to Marketing Your Physical Therapy Practice, and get access to more downloadable freebies to help you create an unstoppable marketing plan that drives referrals and direct access patients. Check out the eGuide here!
#3. Systems to Drive Growth in Your PT Practice
FYZICAL has made a name for ourselves among physical therapists because business operations coupled with our physical therapy expertise is our specialty. When you partner with us, we'll revamp your operational systems to ensure you're maximizing your business value, and aren't wasting time or money on inefficient processes. While you became an expert physical therapist in school, chances are good that you weren't able to access the classes that make running a business a seamless process. We're here to help with that! Our business systems allow you to be as hands on in the clinic as you want to be while also maintaining the business side of your practice. Learn how you can do both parts of business ownership well! We're here to help!
#4. Brand Recognition that Brings Patients to You
Chances are, you've already built up a strong reputation in your community from the time you started your physical therapy practice. FYZICAL has also built a strong reputation and brand recognition on a national level. When you convert your practice to a FYZICAL branded clinic, you'll instantly enjoy the benefits of that brand recognition, catching the attention of the countless potential individuals we serve who have already worked with another FYZICAL location or have heard positive things firsthand and have experienced the incredible support our clinics have to offer.
#5. Comprehensive Support from PTs for PTs
Running a business on your own can be exhausting. Every time you have a question or run into an obstacle, you have only yourself to rely on. That's not the case when you partner with FYZICAL. You can continue to focus on providing great service to your patients but can depend on us to ensure that your business runs smoothly and efficiently. We're there for you by monitoring your progress and being responsive when you need help. With our incredible operational support team, help is just an email or a phone call away and we've got your back - we've been where you are and we can help you navigate the answers to your most puzzling questions!
These are just a few of the many reasons to consider partnering with FYZICAL. You've already done the hard work of starting a physical therapy practice – contact us today to see how converting your practice could help you to improve your business immediately!