For those of you attending PPS in Chicago November 1st – 4th, you can attend an exclusive event, PT Revolution, in congruence with PPS on November 4th that you don't want to miss… (if seating is still available).
PT Revolution is an event hosted by FYZICAL Therapy & Balance Centers. By attending this event you will learn:
The 7 steps to decrease cancellations
How to increase cash sales to over $100 per unique patient
How to increase your referral conversion rate
Fail-safe marketing strategies
…and everything you need to know about managing a successful PT practice
You can attend this event for free, and gain priceless knowledge that you can take back to your practice on Monday and implement right away. There is no risk in attending this event, only reward.
PT Revolution November 4th, 2017
Hilton Chicago, 8:15 a.m. – 1:00 p.m.
(Private Dining Room Section 2)
Don't just take our word for it. FYZICAL member Bob Carpenter (he owns two practices in Lexington, SC), tells his story about attending PT Revolution…
-----------------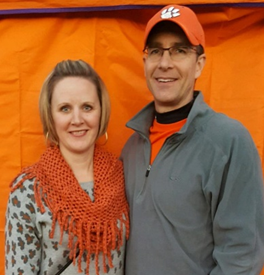 "My wife and I always attend PPS together. Last year, in Las Vegas, we had heard of this event taking place on the final day. We had heard of FYZICAL, but hadn't taken the time to see what they were all about. With PT Revolution taking place in congruence with PPS, I thought this was the perfect time to check it out.
That Saturday morning, Christie (my wife) wasn't feeling too well, but she told me to go anyways. Always listen to your wife. Attending this event was the best thing I've ever done for my practice.
I had been on a mission for the previous 3 years recognizing where healthcare was going. I had been in talks with all of the companies in our field: ATI, Benchmark, CORA, USPH, Drayer, but I wasn't comfortable with any of these options. When I heard their business models, I was terrified. Then, I went to PT Revolution and met FYZICAL.
FYZICAL had a business model for the future in our field. They had an answer to compete with the hospitals. They had an answer to bring cash to our practice. They had an answer to work with like-minded people and rather than be competitors, we work together for private practice. Their business model was extremely detailed, and I ran back to the room kicking and screaming telling my wife she needed to come with me to the next meeting to see what this was all about.
I think my jaw is still in Atlanta…
It initially seemed a bit strange when we looked at PT and heard franchise. When you hear franchise, you typically think McDonald's or Chick-Fil-A, but physical therapy?
So, the next event was in Atlanta. My wife and I flew to this event… and when she looked at me at the first bathroom break, she said this was everything we wanted and had been talking about for the past 3 years. My jaw hit the floor I was so excited she was on board.
I'm a physical therapist by trade, not a business person. What we've been able to accomplish in our first year as members of FYZICAL has almost been unbelievable. Our business is much more efficient. We know exactly where referrals are coming from and how many, we've decreased our cancellation percentage, we have a big picture awareness and goals for the future.
Our practice has grown from $800,000 in annual revenue to on track for $1.2 million for 2017, after years and years of no growth. We're looking at acquiring 2 locations in our area, and we're building actual value for an exit strategy in our practice one day. I've never acquired a business before… I have no idea how to do it, but… FYZICAL does, and they are showing me how to do so step by step.
I would never know how or where to acquire this type of knowledge without FYZICAL. If you want to remain 100% independently owned… this is your best option for the future. I'd be happy to share with you my experience since joining FYZICAL and encourage you to call upon me (or any franchisee for that matter).
One of my favorite parts about FYZICAL that isn't talked about enough is the networking opportunity we all share. FYZICAL is a family. We are a group of like-minded practice owners working together towards the same goals. We all call, text, Facebook, have events, and it's extremely beneficial for all of us."
-----------------
Bob's experience is just one of many. Check out these success stories from other PTs across the country.
The event is free, but it's filling up fast because PTs like you are recognizing this valuable opportunity. Register NOW while you can here.