Physical Therapy
Fyzical Sets Pace In Healthcare Franchising. The Time Is Now
---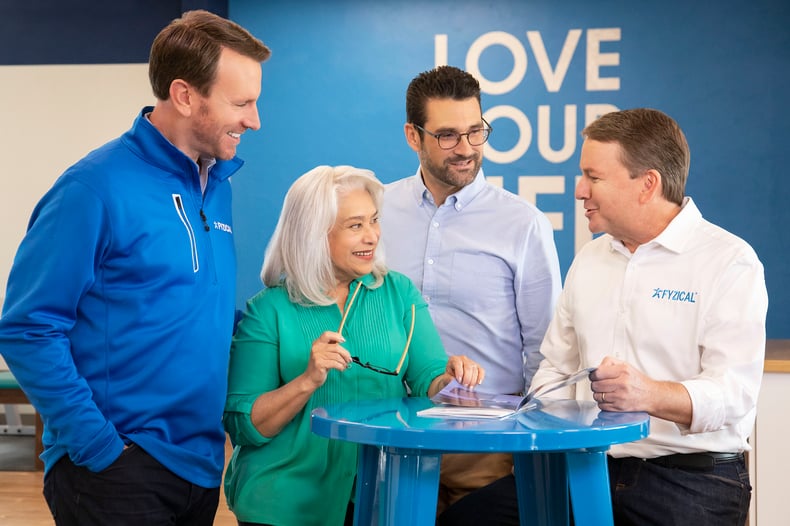 SARASOTA, FLA. JANUARY 25, 2023
Franchising.com
The healthcare industry has exploded within the last decade, and an aging population has skyrocketed the demand for physical therapy. As the growth continues to take flight, one facet remains glaringly obvious: the future of healthcare franchising is being transformed by the leader in the industry - FYZICAL Therapy & Balance Centers.
The physical therapy industry, valued at $50.26 billion in 2022, is projected to increase by 5.4% per year, up to $72.70 billion by 2029. Americans over 65, who currently comprise 15% of the population, will expand to 25% by 2060, while the number of adults will triple.
The #1 Physical Therapy Franchise's innovative and cutting-edge therapies have answered the growing urgency for physical therapy services and continue to command the physical therapy franchise sector as the premier physical therapy franchise.
Learn more about FYZICAL's non-clinical owner opportunities. No healthcare experience is required!
Named a Top Franchise for 2023 by Franchise Business Review, FYZICAL Therapy & Balance Centers ranked #21 in the Enterprise Category (400+ open units). FYZICAL was also named on Entrepreneur's 2023 Franchise 500 list, ranking No. 1 in the Physical Therapy Category for the sixth consecutive year, and earned the No. 46 spot in the Overall Top 50 category for the Top Franchises of 2022.
FYZICAL's combination of bright medical minds and acute business intelligence created the blueprint for physical therapy franchise success, establishing FYZICAL as a top innovator in the health and wellness space with immediate opportunities for growth.
"FYZICAL began by providing an initial roadmap for existing clinical owners,
says Chief Executive Officer Brian Belmont. "It's grown to not only existing therapists but investors and folks in the franchise community. We have gone from an emerging growth brand to a sustainable growth brand as we approach 50 states. Nearly every major DMA in the U.S. has opportunity."
FYZICAL specializes in traditional orthopedic physical therapy services and treats patients for injury and surgery rehabilitation, including specialty services such as pelvic health, audiology, laser therapy, dry needling, and more. FYZICAL's groundbreaking proprietary Balance Paradigm addresses the vital need for balance services and is FYZICAL's exclusive competitive edge. Falls are the leading cause of fatal and nonfatal injuries among older adults, and 40% of the U.S. population will experience clinical dizziness or balance difficulty in their lifetime.
Learn all about FYZICAL's #1 Balance and Vestibular Program.
Selling points include a lower cost of entry, flexible business models, and reduced staffing. At its core, FYZICAL's success stems from its groundbreaking treatments that generate positive patient outcomes.
"What we're really providing is a place focused on patient care and patient outcomes," says Scott Wendrych, FYZICAL's Chief Development Officer. "That's the culture we want our owners, our franchisees, to set with their teams within their individual businesses. We, as the franchisor, support that by providing them with tools and resources to run a great business, but at the end of the day, it's always about patient outcomes."
Named Franchise Business Review 2021's "Most Profitable Franchise," FYZICAL's trailblazing therapies in a recession-resistant industry account for serious growth in the healthcare franchise space, with 90 deals inked in 2022. Prime territories are available in: Seattle, Twin Cities, Detroit, Indianapolis, Orlando, Boise, Boston, and Kansas City. Click here to schedule a no-pressure 15-minute qualification call to see if FYZICAL is the right choice for you.
Recognized for its Outstanding Work Culture this past year by Franchise Business Review, as well as Most Innovative Franchise and Top Franchise for Veterans, FYZICAL offers unparalleled franchisee support, including buildout, operational, training, and marketing support for clinical and non-clinical owners.
"I think the brand has huge potential," said FYZICAL Area Representative Barry Burke. With his son Remington, he plans to capitalize on FYZICAL's success to expand his North Dallas franchise to multiple units. "The support team at FYZICAL has been the best I have seen in my 30 years of franchising."
"What's on the horizon for FYZICAL is growth," says Belmont. We'll continue to help our multi-unit owners grow, our corporate team and staff will grow to support that, and we'll grow as a national brand to provide more innovation, more products, and more services. All of that is facilitated because of our growth. We are over 500 stores within our pipeline and stores open, and that's just the tip of the iceberg."
Belmont, however, says timing is crucial to taking advantage of the top healthcare franchise opportunity. The average cost to open a FYZICAL location is $375,000, including five months of working capital. Without a clear leader in the physical therapy sector, FYZICAL's franchise model spells tremendous opportunity.
"Now would be the time," says Belmont. "There are a lot of people in the franchise community who say, 'I wish I would have thought of that' or 'I wish I would have gotten in then.' Well, now is now. Now is the time to get in with FYZICAL."
Founded in 2012, FYZICAL Therapy & Balance Centers is a physical therapy franchise with over 500 open locations across 44 states. FYZICAL offers a medically based approach to health and wellness and offers comprehensive patient care through unique balance protocols and healthy lifestyle products and services. FYZICAL is actively seeking multi-unit franchise partners and area representatives for expansion into Kansas City, Minneapolis, Indianapolis, Detroit, Philadelphia, Boston, and more! To learn more, visit FYZICALfranchise.com.
"Most people think you have to be a healthcare provider to help people in this business, but entrepreneurs don't realize the tremendous impact they can have in healthcare."
Mike Graves | Multi-Unit Owner, 9 FYZICAL Locations
People Also Ask:
How Much Does a Physical Therapy Clinic Startup Cost?
The Top 5 Physical Therapy Franchises in America
How to Choose a Location for your Physical Therapy Clinic Startup
How to Build a Physical Therapy Business Your Competitors will be Jealous of
How to Market Your Private Physical Therapy Practice
Resources You'll Love:
The Comprehensive Guide to the FYZICAL Investment Opportunity - No Healthcare Experience Required
How to Fund Your Physical Therapy Practice
Love Your Life: Start Your Own Physical Therapy Practice with FYZICAL
Webinar: Healthcare Franchising 101: Is Franchising for Me?