Physical Therapy
FYZICAL Balance Program: Differentiation Means Dollars in Franchising
---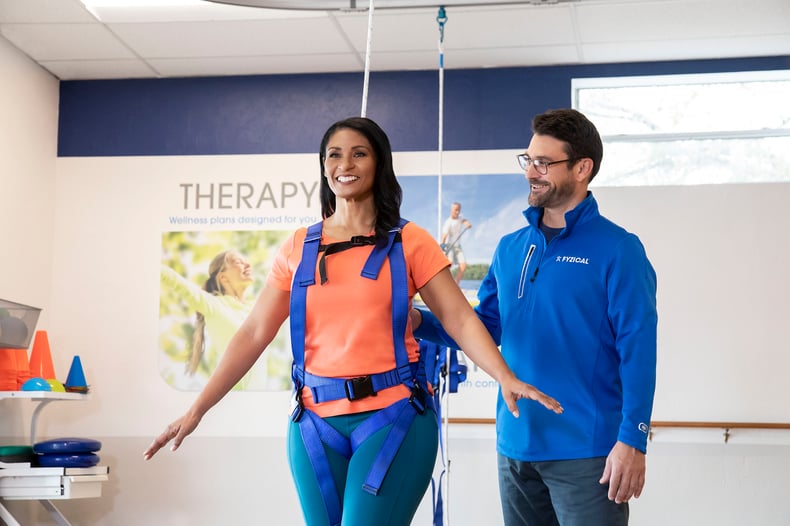 Franchising.com - April 20, 2023
As nearly 3,8001 U.S. franchised brands compete to find a unique and competitive edge in today's overflowing marketplace, a burgeoning demand in a booming $50.26 billion physical therapy industry commands a solution that only one franchise has been able to successfully and exclusively remedy.
FYZICAL Balance & Therapy Centers' proprietary Balance and Vestibular Program solves a mounting need for balance therapy in the U.S. and serves many Americans who suffer from balance and vestibular issues. This enormous scale of opportunity has allowed FYZICAL clinics nationwide to become premier experts on balance.
Here are some eye-opening facts: Every 11 seconds, a patient is admitted to the ER due to an unintended fall. Nearly 8 million Americans are affected by balance problems, and over 69 million suffer from vestibular disorders alone.
And every demographic age group is a target.
Falls are the leading cause of fatal and nonfatal injuries in older adults.
Recent studies in middle-aged and older adults show that poor balance, such as failing a ten-second balance test on one leg, can be linked to a significantly higher mortality risk2.
Ninety million Americans visit healthcare providers because of vertigo, dizziness, or balance problems3. Yet, in 84% of all cases, dizzy complaints go unaddressed. Forty percent of the U.S. population will experience clinical dizziness or balance difficulty in their lifetime. 4
As balance plagues every demographic - pediatrics, athletes, middle-aged, mature, and geriatric patients alike - balance and vestibular patients are going underserved in nearly every market.
Explore FYZICAL's #1 Balance and Vestibular Program
FYZICAL's revolutionary Balance Paradigm is unlike any other balance program in the market. Bringing both innovation and ingenuity, it fills an essential void in the healthcare space and is an enormous scalable opportunity for entrepreneurs.
"Implementing a balance program in an outpatient FYZICAL Therapy & Balance Centers location positively impacts the clinic's bottom line by increasing patient volumes and reducing the cost of patient acquisition," said Rick Douglass, PT, DPT, and FYZICAL's President of Franchise Operations.
"Many patients who are already coming through your doors to see a physical therapist for pre- and post-surgical, foot, ankle, hip, knee, back, and shoulder pain also have significant challenges with their balance," said Douglass. "In fact, many of their initial injuries were potentially caused by loss of balance and falls. A balance program opens up a whole new group of referral sources and allows you to have a greater impact on your community."
Originated by the experts at FYZICAL, the Balance Paradigm takes an evidence-based approach to wellness and offers exclusive cutting-edge measures, such as industry-leading fall-risk prevention therapies, to keep falls from happening in the first place. Using proprietary protocols to diagnose and treat patients clinically, FYZICAL designs a personalized roadmap to success with its revolutionary balance therapies.
FYZICAL's pioneering treatments have propelled them as the leading balance differentiator in the market and the premier balance and vestibular expert across America, compounding profit opportunities for FYZICAL franchisees nationwide.
In the franchise sector, it's a game changer.
"Joining FYZICAL for its Balance Program has probably added more revenue to our practice than anything else," said Tara Schwarz, FYZICAL Franchisee. "Our balance business is 60% of our practice, and we are well-known for it."
"In fact," she said, "Doctors tell their patients to 'find a FYZICAL.'"
FYZICAL centers aren't just treating symptomatic patients, they're able to predict balance deficiencies, too. Through its Balance Paradigm and Sensory Mismatch Theory, physical therapists can diagnose patients and provide a customized care plan to prevent future falls and balance issues, so the problem doesn't come back.
See why FYZICAL captured the Franchise Times 2023 Zor Award as "Top Brand to Buy."
Bringing balance therapy to the forefront of the industry, FYZICAL's proprietary therapies treat and diagnose balance patients, delivering ample opportunities for scalable growth.
"FYZICAL's Balance Program positions clinic owners to be the provider of choice for the largest and fastest-growing demographic of potential patients and clients who will be seeking the care of physical therapists," said Douglass.
With very little competition in the marketplace, FYZICAL's Balance Program elevates franchisees as the premier balance experts in their communities, adding extensive revenue to the traditional physical therapy practice.
And the aging population has guaranteed the need for balance therapy long-term. Currently, Americans 65+ comprise 15% of our current population, and it's estimated that by 2060 the number will increase to 25% while the population of 65+ adults will triple.
Get in on the booming Physical Therapy industry! Download FYZICAL's Investment Opportunity Guide!
Backed by a successful 10-year brand offering multiple scalable business models and loads of financial opportunities and support, the low-cost, "Best Franchise to Buy in 2023" (Franchise Times) is the top choice for entrepreneurs and physical therapists who want to grow financially and take advantage of FYZICAL's #1 Balance Program.
As the healthcare industry dollars continue to surge, the urgent need for balance therapy will scale up in age groups across every age demographic in the U.S.
FYZICAL, the frontrunner in balance therapy, will continue to lead the industry by capitalizing on market demand, equipping an ever-expanding population with exclusive treatments, and providing franchisees with the opportunity to achieve long-term financial profitability. Visit FYZICALfranchise.com to learn more.
View the article here.
Named "Best Franchise to Buy in 2023" by Franchise Times, FYZICAL began its tenth year of franchising this year with 500+ open locations across 44 states and has framed the healthcare franchise industry as the #1 Physical Therapy Franchise. A well-established franchise that provides a medically-based approach to health and wellness, FYZICAL offers comprehensive patient care through physical therapy and balance and vestibular rehabilitation therapies. No Healthcare Experience Required.
1 Franchise Performance Group (2021) Franchising: Where most franchisors break, Franchise Performance Group. Available at: franchiseperformancegroup.com/where-most-franchisors-break/ (Accessed: April 6, 2023).
2 Araujo, C.G. et al. (2022) Successful 10-second one-legged stance performance predicts survival in middle-aged and older individuals, British Journal of Sports Medicine. BMJ Publishing Group Ltd and British Association of Sport and Exercise Medicine. Available at: bjsm.bmj.com/content/56/17/975 (Accessed: April 6, 2023).
3 Facts about dizziness: Vertigo: The Hearing and Balance Clinic: Denison (2019) The Hearing and Balance Clinic. Available at: thehearingclinic.org/services/facts-about-dizziness/ (Accessed: April 6, 2023).
4 Vertigo (no date) ucsfhealth.org. Available at: ucsfhealth.org/conditions/vertigo (Accessed: April 6, 2023).
People Also Ask:
How Much Does a Physical Therapy Clinic Startup Cost?
The Top 5 Physical Therapy Franchises in America
How to Choose a Location for Your Physical Therapy Clinic Startup
How to Build a Physical Therapy Business Your Competitors will be Jealous of
How to Market Your Private Physical Therapy Practice
Resources You'll Love:
The Comprehensive Guide to the FYZICAL Investment Opportunity - No Healthcare Experience Required
How to Fund Your Physical Therapy Practice
Love Your Life: Start Your Own Physical Therapy Practice with FYZICAL
Webinar: Healthcare Franchising 101: Is Franchising for Me?