The following story is from Dr. Morgan Hinds, Clinical Director at Bonita Springs FYZICAL.
"One patient I recently treated was a 21-year-old female who was in her last semester of her undergrad at FGCU. She had plans to become a dentist and had been accepted into school. A few months prior to graduation, she ended up having meningitis that went undiagnosed for a little while.
One day while she was teaching at the school, she lost consciousness from the meningitis and ended up falling. During that fall she ended up hitting her head pretty badly. The result was a severe concussion leaving her highly debilitated. She could not tolerate bright lights, loud noises, busy environments, reading or watching TV, and she had a lot of issues with concentration. She was getting headaches regularly, becoming severely nauseous and sick from too much stimulus, and very dizzy. She was determined, however, to continue with school despite her doctors telling her she needed to take time off.
Then she finally came to physical therapy. In therapy, we spent over one month where all we did was keep her on her back and slowly introduced her vestibular system to gradual stimulus until she could tolerate any position other than her back. Even in such a simple position, each session had to be ended early due to her symptoms increasing and our need to avoid over-stimulation. It involved a very slow and specific prescription of stimulus to her system to allow her to progress.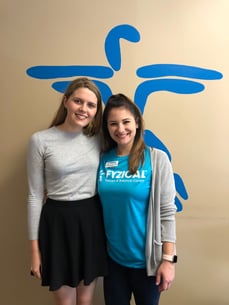 With determination and persistence, the day came where she could finally tolerate sitting. This was such an accomplishment it brought joy to both of us. After this, we finally started to see her true personality come out. We started in a dark room on her back to fully standing in a bright (fluorescent, nonetheless) room with a lot of people in it.
As her system tolerated more and more, she became more outgoing and excited. She began to tolerate more hours at school and work. She went through exams and did amazingly. She graduated with so many honors I cannot even begin to explain them all. Watching her progression with therapy (although slow, concise and persistent) was one of the most rewarding experiences I have had as a vestibular therapist."