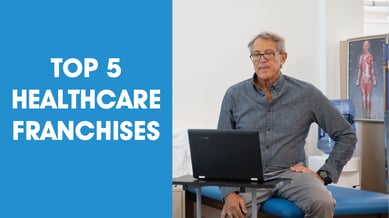 The healthcare industry is booming! As the largest generation in history ages, the demand for healthcare services has grown exponentially. Families want the best care for their older relatives and healthcare franchising is a prime opportunity to support that demand. In healthcare franchising, care types vary from in-home health to physical therapy and fall prevention, one thing is for sure – this industry opportunity shouldn't be overlooked. The demand for these services will only continue to grow. Let's take a look at the Top 5 Healthcare Franchises, in no particular order:



The Joint Chiropractic
Founded in 1999 by a Doctor of Chiropractic Medicine, The Joint Chiropractic is a franchise system that is aimed at improving quality of life through accessible and affordable chiropractic care. What makes The Joint different than other chiropractic care centers? No appointments necessary, and no insurance. The centers provide only one service -- spinal adjustments performed manually. Their franchise model is based on a flexible gym-like membership system where patients pay a monthly fee and have access to walk-in chiropractic adjustments. There are approximately 530 locations across the United States today. The Joint Chiropractic aims to help people manage their daily aches and pains and change how they gain access to chiropractic care.



FYZICAL Therapy & Balance Centers
Opening its first franchise location in 2013 and boasting over 400 locations nationwide, FYZICAL is a brand that operates across multiple thriving industries. The primary platform is physical therapy services, with balance retraining and fall prevention programs. FYZICAL incorporates multiple ancillaries which crossover into the audiology and wellness industries as well. For entrepreneurs who want to break into the health and wellness industry, FYZICAL stands out among its competitors as a highly regarded brand. Named one of Inc. 5000's fastest growing companies, and in the Top 100 of the Entrepreneur Franchise 500 for three years running. They have a simplified process for opening a franchise location, and no healthcare experience is required to partner with this brand. FYZICAL was ranked the #1 Physical Therapy Franchise by Entrepreneur Magazine in 2020, and also boasts the #1 Balance and Vestibular Program in the world. Between a flexible 'Manage the Manager' business model, normal business hours, and steady industry growth that is predicted well into the future – this is an excellent healthcare franchise opportunity to explore.



American Family Care
Founded by Dr. Bruce Irwin, MD in 1982, American Family Care is a franchise brand that provides an alternative option for non-emergency urgent care. AFC centers provide access to primary care, urgent care, minor emergency treatment and occupational medicine. They bring a high-tech, high-touch approach to medical care and their goal is to keep patient visits, from check-in to discharge, under an hour. Efficiency is the crux of AFC's business model, filling the gap between limited-service retail clinics and expensive, inefficient, hospital emergency rooms. The American Family Care franchise has approximately 225 locations currently open nationwide.



Nurse Next Door
Boasting 200+ locations worldwide, the Nurse Next Door home care services franchise was born in Vancouver, British Columbia in 2001. Services include skilled nursing, non-skilled care, and companionship services. From help with house chores, to meal prep and personal care this franchise focuses on helping seniors reach optimum health and happiness. The driving concept behind this brand is their trademarked idea of 'Happier Aging' – while their core purpose is to make lives better. Nurse Next Door is a home care brand that delivers a premium in-home-health experience with the aim of reconnecting its seniors with their interests, hobbies, and passions, beyond their health concerns.
BrightStar Care
Brightstar Care came into fruition as a family business in 2002 with a primary objective of providing the full continuum of home health care for both individuals and families in need. The founder and CEO, Shelly Sun, identified a need for a full spectrum of care for patients with changing healthcare needs, and she developed the solution through BrightStar Care. Today, this home healthcare brand includes adult care, elder care, childcare and medical staffing services for individuals, families and health care facilities. Caring for patients over a longer period of time gives families who use the services a greater peace of mind because they won't have to see their loved one constantly transitioning from one provider to the next. Their business model is focused on providing a higher standard of care so that their patients can live well at every stage of life – in every setting.