Physical Therapy
FYZICAL Master Franchise Owners Power Up for Growth with Premier Healthcare Leader
---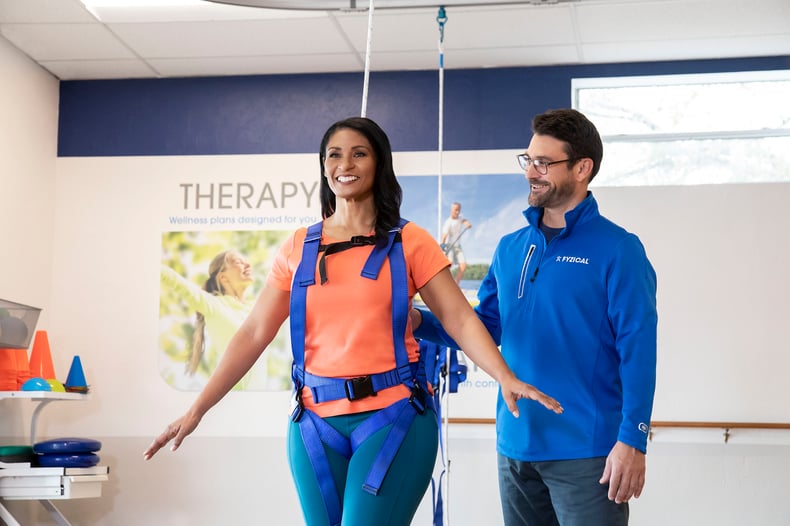 Franchising.com
FYZICAL's Master Franchise is a rare opportunity to build a recurring revenue income stream by developing a larger territory through sub-franchising.
Entrepreneurs looking to get in on the ground floor of transformational opportunity in the booming healthcare sector are finding an unmatched franchise home in FYZICAL Therapy & Balance Centers.
The premier physical therapy franchise, with over 500 locations across 44 states, continues to make its presence known in the $50.26 billion-plus recession-resistant industry with Master Franchisees like Robert Hub and Scott Thayer.
Hub, who has a corporate background in business and construction, initially planned to open a few FYZICAL locations before teaming up in 2021 with Thayer, a sales and marketing pro. Together they operate and develop the brand at scale in the Charlotte, North Carolina, and Greenville, South Carolina areas.
FYZICAL's Master Franchise Opportunity
With 10 FYZICAL centers opened or under development, Hub and Thayer are off to a fast and successful start in franchising, on track to have 25 locations in the Charlotte area alone.
The long-time friends turned business partners are proof positive that there's no need for a physical therapy background to shine in the lucrative healthcare franchise industry.
"I'm not a clinician; Scott's not a clinician. So, we really did our due diligence when we looked at the opportunity," Hub says. "We came into this as a business, and we have had nothing but support from the clinician side every step up of the way. We have to execute the plan, but there's a blueprint, and we're constantly tweaking it because there are always areas for improvement, and the company is always looking to support us."
FYZICAL Sets the Pace in Healthcare Franchising
FYZICAL Sets Pace in Franchising: The Time is Now
Founded in 2012, FYZICAL leads the way in the physical therapy space, projected to reach $72.70 billion by 2029. And for a good reason.
Nearly 56 million Americans are 65 or older, many of whom suffer from balance issues, movement disorders, injuries, and pain. With projections estimating this sector of older adults will expand to make up 25% of the population by 2060, FYZICAL stands ready to meet the demand with a medically based approach to health and wellness.
The Sarasota, Florida-based brand offers comprehensive patient care, healthy lifestyle products and services, and a proprietary, groundbreaking Balance Program that gives their centers a competitive edge in the marketplace.
"FYZICAL began by providing an initial roadmap for existing clinical owners," says Chief Executive Officer Brian Belmont. "It's grown to not only existing therapists but investors and folks in the franchise community. We have gone from an emerging growth brand to a sustainable growth brand as we approach 50 states. Nearly every major DMA in the U.S. has opportunity."
Franchise owners can count on a smooth path to ownership, says Thayer, who spent 30 years leading teams and business development with mega consumer brands like Coca-Cola.
"The resources the FYZICAL team provides the franchisees are outstanding," Thayer says. "They are up there with a Fortune 50 company. There's really an operational guide that helps investors like us navigate through some of the challenges within healthcare that we wouldn't be apprised of coming in from outside the market."
FYZICAL is coming off a banner year with more growth in 2023, celebrating the milestone opening of its 500th clinic. Recently named Best Buy in Franchising by Franchise Times as part of its annual Zor Awards program, the brand opened 86 new clinics and signed 90 new franchise deals in 2022, with unit-level revenues up 18% year-over-year, serving thousands more patients.
WEBINAR: Master Franchise Opportunity: A Webinar for Entrepreneurs Who Want to Learn About a Rare Opportunity in Franchising - Register Now!
"After 10 years of franchising, we've certainly learned a lot along the way," Belmont says. "As FYZICAL has grown, we have continued to reinvest in the business through technology and business intelligence that has allowed us to provide business support and revenue cycle management support to help scale the brand while continuously focusing on patient care and consumer wellness."
Multi-unit operators like Hub and Thayer are finding there's a lot to love about FYZICAL.
"If you're a person who wants to chart your own course-and as corny as it may sound—write your own legacy, this is a perfect space to be in," Thayer says. "For us, it was about transitioning into something that brings value to the communities where we live, play and work. And we found that opportunity with FYZICAL."
Ready to start your journey with an award-winning franchise today? FYZICAL has single unit, multi-unit and master franchise opportunities across the U.S. Learn more about the Master Franchise Model on March 30th when you take part in FYZICAL's webinar here. Visit fyzicalfranchise.com now.
About FYZICAL
Founded in 2012, FYZICAL Therapy & Balance Centers is a physical therapy franchise with over 500 locations across the country. FYZICAL offers a medically based approach to health and wellness through comprehensive patient care using unique balance protocols and healthy lifestyle products and services.
People Also Ask:
FYZICAL's Non-Clinical Investor Model
How Much Does a Physical Therapy Clinic Startup Cost?
The Top 5 Physical Therapy Franchises in America
How to Build a Physical Therapy Business Your Competitors will be Jealous of
How to Market Your Private Physical Therapy Practice
Resources You'll Love:
FREE GUIDE: FYZICAL Investment Opportunity Guide
How to Fund Your Physical Therapy Practice
Love Your Life: Start Your Own Physical Therapy Practice with FYZICAL
The FYZICAL Investment Breakdown