Multi-unit ownership and growth insights from FYZICAL's own franchisees and CEO
Building a multi-unit physical therapy business is a dream of many, but a reality of few. According to WebPT's The State of Rehab Therapy 2019 Report, only 15.2% of practice owners surveyed own 10+ locations. Most private practice owners just own a single location, however, the physical therapy industry is ripe with opportunity to change this trend.
We interviewed some of FYZICAL's experts on multi-unit ownership and narrowed down what it takes to scale a physical therapy business and how to get started. Many private practice owners experience challenges and make mistakes by trying to grow without taking the necessary steps needed for success. These experts have been through it all and know exactly what to plan for and how to be successful as large, multi-unit businesses.
The following insights have been provided by FYZICAL franchisees Marc Phillips and Mike Graves and FYZICAL CEO, Brian Belmont.
Brian Belmont
FYZICAL Headquarters CEO
Brian has 20+ years of multi-unit franchise ownership experience in brands such as Quiznos and Planet Fitness.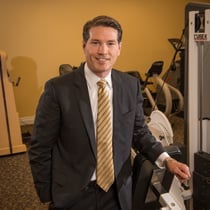 Mike Graves, MSPT
FYZICAL Palm Beach CEO
Mike is the owner and operator of 10 FYZICAL franchise locations in Palm Beach, Florida with over 20 years of multi-unit ownership.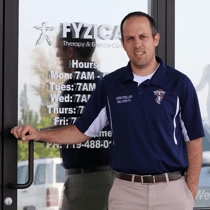 Marc Phillips, PT, DPT, OCS, CSCS
FYZICAL Gleneagle Partner
Marc is a partner of seven FYZICAL locations in Colorado and he has over 10 years of multi-unit ownership experience.
Ready, Set, Grow!
If you have the desire to grow your physical therapy practice into a large multi-unit business, how do you know when you're ready to take that jump? First, you need to put a plan and budget in place that will allow you to step out of your clinic and focus on growth. "We created a plan and once we got to certain revenue thresholds, we knew we were ready to move on to the next step in the process," says Brian Belmont. Once you have a plan in place, you're ready to get started.
Where to Start
You have to start somewhere: location #1. "The best way to get into multi-unit ownership is to be successful in your first location," says Belmont. Being successful in your first location will allow you to step out and focus on scaling the business. Franchisee Marc Phillips agrees, "One of the most important things is having a good base. You can't build from a weak foundation. Once you build your foundation and have all your business systems in place, opening another location is much easier."
What You Need
Franchisee Mike Graves explains that many entrepreneurs often under estimate the time and capital needed to grow, "I avoided this mistake by increasing my market share and improving the systems and processes that drove performance in my single unit. My original center became my largest practice by volume because I focused so much on that location in the beginning. It fed my growth and gave me the capital I needed to scale."
In addition to building a solid foundation in your original clinic, time and capital, you need a leadership team in place. "If you don't have leadership and you try to grow, you won't be able to do so successfully," says Phillips. Having a solid leadership team in place that is aligned with your goals and vision will help support you in your growth and give you the flexibility to drive your business.
Lastly, keep your eyes open for opportunities, even when you don't expect them. Graves advises, "Open your heart and mind to possibilities. Do your due diligence and spend the necessary time looking for opportunities. If you wear the CEO 'hat', it's your responsibility to do that. Knowledge is key."
Challenges to Expect
"Almost exclusively, the challenge is staffing and building a team that's aligned with you," says Belmont. Belmont also explains that he overcame this challenge by encouraging his team to drive the value and remain invested in the future of the company. He did this also by sharing earnings to create a financial incentive for his management to stay long-term with his company.
The Opportunity Ahead
Physical therapy is a growth market with a lot of fragmentation and consolidation. If you're thinking about getting into multi-unit ownership, this is the industry to do it in and this is the best time to get ahead of the curve. "I see tremendous change coming into our field. I see the physical therapist providing a greater role in healthcare and continued downward pressure on reimbursement. Growth is the only option," says Graves.
The future of physical therapy will likely see a trend towards preventative care rather than the traditional episodic care. "It's the vision we have at FYZICAL. We are a solution for many of the rising costs in healthcare, such as opioid addiction and increasing falls," Belmont explains.
Overall, building a physical therapy empire is possible for anyone willing to set a plan and do it. You don't have to do it alone – and from the advice of these experts – you're better off having support through your journey of business growth.
FYZICAL is a complete physical therapy business model for growth-minded private practice owners and entrepreneurs. No matter what stage you're at, FYZICAL develops customized practice solutions to get you where you want to go. To learn more about the FYZICAL franchise model and how you can build your FYZICAL empire, chat with a FYZICAL Advisor today!