FYZICAL Therapy & Balance Centers Is One of Just 50 Franchise Companies to Be Recognized for Strong Financial Performance and High Franchisee Satisfaction, named to Franchise Business Review's List of Most Profitable Franchises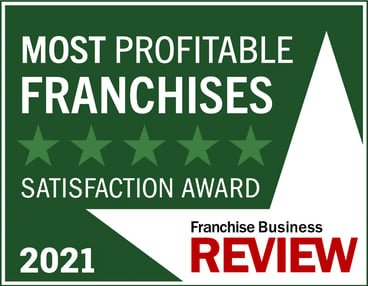 Sarasota, Florida, October 1, 2021 – FYZICAL Therapy & Balance Centers was identified by independent research firm, Franchise Business Review, as being one of just 50 franchise brands to be named an award-winning franchise in its 2021 report on the Most Profitable Franchises.
FYZICAL is the fastest-growing physical therapy franchise in the United States and is headquartered in Sarasota, Florida. With more than 430 open centers in 45 states, FYZICAL's revolutionary business model is designed to optimize profitability and growth. The company offers comprehensive patient care through unique balance protocols and healthy lifestyle products and services. FYZICAL is a champion of patient choice and direct access, and a leader in the future of health, wellness, and preventative care. For more information on joining the FYZICAL family, visit FYZICALFranchise.com.
Franchise Business Review, a market research firm that performs independent surveys of franchisee satisfaction, provides the only ranking of franchises based solely on actual franchisee satisfaction and performance. Franchise Business Review publishes rankings of the top franchises in its annual Guide to Today's Top Franchises, as well as guides throughout the year ranking the top franchises in specific sectors.
To identify the companies on the list of the most profitable franchises, Franchise Business Review analyzed data from over 25,000 franchise owners, representing more than 200 brands regarding their overall satisfaction with their brands and their likelihood to recommend them to others.
FYZICAL Therapy & Balance Centers franchisees were surveyed on 33 benchmark questions about their experience and satisfaction regarding critical areas of their franchise systems, including training & support, operations, franchisor/franchisee relations, and financial opportunity. Other factors included annual income of franchise owners and minimum startup capital requirement.
"It's important to have realistic expectations of what business ownership is all about before you invest in a franchise. Most franchise businesses — like any new business — require several years of hard work before they start to really take off," said Eric Stites, founder and CEO of Franchise Business Review. "But if you take the time to do your research, you have a much better chance of finding an opportunity that can help you attain significant wealth over time. The companies on the list of the Most Profitable Franchises offer a better than average shot at growing your income and received the highest ratings from the franchisees who own them on our independent satisfaction survey."
About Franchise Business Review
Franchise Business Review (FBR) is a leading market research firm serving the franchise sector. FBR measures satisfaction and engagement of franchisees and publishes various guides and reports for entrepreneurs considering an investment in a franchise business. Since 2005, FBR has surveyed hundreds of thousands of franchise owners and over 1,100 leading franchise companies. To read our publications, visit https://franchisebusinessreview.com/page/publications/. To learn more about FBR's research, please visit www.FranchiseBusinessReview.com