This year for National Physical Therapy Month and PT Day of Service, FYZICAL is teaming up with National Charitable Partner, Meals on Wheels! Meals on Wheels envisions an America where all seniors, "live nourished lives with independence and dignity." Similarly, FYZICAL empowers individuals to take control of their recovery and wellness through direct access to physical therapy, balance/dizziness protocols and healthy lifestyle products and services. We are both committed to helping seniors live healthy, active lifestyles. With these aligned visions of a healthier future for all, our organizations are setting out to strengthen communities all over the United States.
FYZICAL's two main objectives during this campaign include: 1) Raise fall prevention awareness, and 2) Raise funds for Meals on Wheels. FYZCIAL and Meals on Wheels developed customized, branded water bottles that provide three tips for fall prevention. Meals on Wheels will be sharing these water bottles with seniors nationwide and they will also be available for sale at local FYZICAL locations, with the net proceeds going to Meals on Wheels.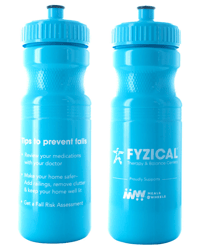 FYZICAL locations will also volunteer at their local Meals on Wheels chapter on Global PT Day of Service (October 12th). Members will take part in assembling and packaging meals prior to delivery or assisting with meal delivery.
With over 400 FYZICAL locations in 45 states, we can make a tremendous impact through our united efforts with Meals on Wheels. Keep an eye out… You might just see your local FYZICAL making a splash online or in the news!
Click here to see 4 Ways You Can Serve Your Community for PT Day of Service.