Centers for Medicare & Medicaid Services (CMS) can often be confusing for physical therapy providers, and the amount of changes can often be frustrating. If you don't have a working knowledge of how CPT codes are valued, it is important to understand this first.
Quick breakdown: Code valuation is made up of 3 separate elements, known as relative value units (RVUs). These are estimations of the labor, expense, and potential liability involved in performing any given evaluation or treatment associated with a CPT code. The 3 types of RVUs are known as "work," "practice expense" (PE), and "professional liability." A more detailed explanation of how the codes were affected is available via MedPac at www.medpac.gov.
RVUs will continue to be maintained under the Physician Fee Schedule (PFS), but here's the complication with the 2018 PFS according to the APTA: because of the wide variation in upward and downward adjustments, it's hard to make statements about how PTs in general will be affected. CMS estimates the overall impact at a 1%-2% reduction, but a lot depends on the types of patients a PT or clinic typically sees and what interventions are commonly used. Some providers could see increases. Initial analysis indicates that overall, the increases and cuts likely balance out.
There were a few changes to therapy-related CPT codes for 2018. Here's a few of the ones you'll probably have to worry about. (For a full list of code changes, visit Center for Medicare & Medicaid Services website at www.cms.gov).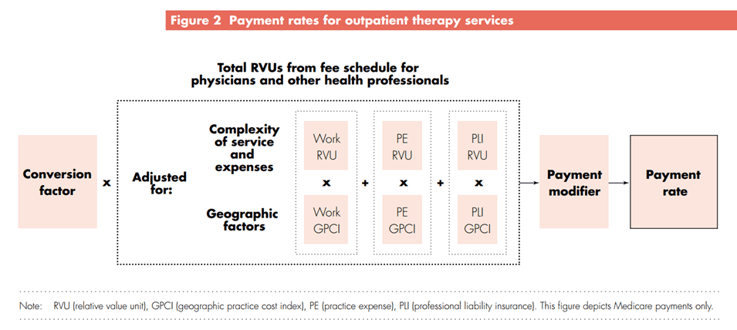 Orthotic Management and Prosthetic Management
The code 97762, has been deleted. 97760 (Orthotic Management and Training) and 97761 (Prosthetic Training) were both revised to include the term 'initial encounter,' and are to be intended to be reported only for initial encounter. Both codes were previously used to report both the initial and subsequent encounters, that, when furnished under the Medicare outpatient therapy services benefit, included services occurring during the same PT or OT episode of care."
The Centers for Medicare & Medicaid Services (CMS) will add CPT code 97763 to the therapy code list.
Telehealth
The proposal to add a large number of therapy-related codes to the list of codes eligible for telehealth reimbursement has been rejected again, which means Medicare beneficiaries will have to keep waiting for telerehab coverage. Although, the Medicare Telehealth Parity Act—which seeks to expand Medicare's list of eligible providers to include rehab therapists—is still waiting for a Congressional vote.
Cognitive Skills Development
Code 97532 is scheduled for deletion and will be replaced by CPT code 97127 (Cognitive function intervention). 97532 is a timed code reported at 15-minute intervals, whereas 97127 is an untimed code that is only reported once on each claim.
Deleted for Redundancy:
29582 (Multi-Layer Compression System, Entire Leg)
29583 (Multi-Layer Compression System, Upper Arm & Forearm)
Therapy Cap
In regards to the therapy cap, CMS will increase the cap from $1,980 to $2,010 beginning in 2018. (This cap could be seeing further changes, however, pending the outcome of an effort in Congress to repeal some elements of the process).
1According to APTA Chief Executive Officer Justin Moore, PT, DPT, the problem is the same as it has been since the cap was implemented 20 years ago. If the cap is adhered to without exceptions, the payment limits would be detrimental to patients in need of rehab, and the traditional workaround, is disruptive. The effort to end the therapy cap marks the 17th attempt, which was initially intended to be a "temporary provision" adopted as part of the 1997 Balanced Budget Act. Recent MACRA results, along with advocacy efforts of APTA members and enthusiasm in Congress may be linking to push towards the end of the therapy cap, according to Moore.
Further information on how codes were affected is available in an APTA fact sheet on the 2018 PFS (listed under "APTA Summaries and Fact Sheets"). You can also visit the APTA's website for further education on updates to 2018, as well as outlooks for the future.
1 http://www.apta.org/PTinMotion/News/2017/7/21/TherapyCapTestimony/
To learn more about how FYZICAL can help you with Medicare regulations and compliance, schedule a call with a FYZICAL advisor today.