Injuries Don't Wait, Why Should Patients?
Late rock legend Tom Petty had a pretty good idea about humanity's take on waiting.
Today, we expect hamburgers in minutes from 'fast food restaurants'. We expect pizzas delivered to our house within 30 minutes. We don't wait for cabs anymore, we call Uber and track them, knowing exactly when they will pick us up. Amazon made us stop waiting for packages, and actually offers same day delivery in many areas.
Click here to learn more about the future of healthcare.
Why should waiting on healing injuries be any different?
Historically, when a person falls off their bike and hurts their knee, but not enough to go to the ER, they call their primary care physician, and wait to talk to someone. They then schedule an appointment and wait until the day they can see them. This leads to a referral to a physical therapist. They again wait until they get to see their physical therapist. All the while, in pain and likely limited in mobility.
Tomorrow… this same patient takes a picture of their injury with their smartphone, sends it directly to a physical therapist and gets a free opinion from a musculoskeletal expert, within 24 hours (or less). This may lead to an internal referral, specialist referral, or simply quick directions on how to heal the injury at home.
How is this possible?
It's possible with a direct access, FREE, digital concierge program, designed to guide patients in the event of an injury, or if suffering from muscular, skeletal or balance challenges/pain. This program is also designed to improve and increase relationships with communities and doctors.
How does it work?
Patients fill out an online form through "fyzicalfirst.com" and provide details of their challenge or injury. One of the program's many Doctors of Physical Therapy review their submission and responds within 24 hours (Most often much sooner). During this response, if the patient is suffering from a challenge, treatable in-house, a FREE "discovery" visit is scheduled. This visit is typically 15-20 minutes in duration and the patient is added to the schedule.
For patients with balance or vestibular related challenges, staff will provide a clinic tour and discuss balance protocols and common courses of care. Orthopedic patients may receive free retail samples and a brief functional movement evaluation. If a challenge is identified, and the patient has commercial insurance, an initial evaluation is scheduled, to expedite treatment. If the deficiency can't be cured with physical therapy, the therapist will refer the patient to another physician or specialist in the area, building reciprocal relationships. Each patient coming in for this free visit must authorize a basic consent form for liability purposes.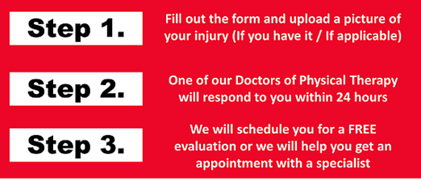 Why Offer This Free Service?
Providing this service takes away the guess work which comes with an injury. The goal is to ensure patients receive the best possible care, in a timely and affordable manner. In addition to benefiting the patient, each clinic is able to onboard more direct access patients. This process also identifies many patients in need of referrals to partner physicians and specialists, or any number of services PT clinics do not offer. For these patients, fyzicalfirst.com is now planted in the mind of the patient as their first step to recovery and has helped them to get better faster.
Physical therapist becomes the "healthcare gatekeeper."
The injured patients not ready for physical therapy are referred out and relationships with physicians are enhanced. Once the physician has completed their level of care, where do you think will they refer the patient for physical therapy? Where will the patient look for physical therapy?
For example, perhaps a PT identifies a central nervous dysfunction with an existing balance patient, clearly in need of a neurological evaluation. The PT can go to fyzicalfirst.com, enter the patient details, select "Existing Patient" and enter "Neuro Eval" into the notes. This prompts the physician liaison to reach out to a neurologist of choice. Outbound referrals are strategically identified to develop new physician relationships or nurture relationships with partner physicians, thus ensuring strong referral relationships, based on reputation AND the laws of reciprocity.
How Can This Help the Practice into the Future?
Planning for the future of the practice is critical for survival in healthcare. By creating an online relationship with consumers now, fyzicalfirst.com is positioned to offer a multitude of products and services to a growing consumer base, into the future of tele-medicine.
FYZICAL CEO, Jim Abrams, tells us, "In the future, most patient care will be at home, over the internet. You will see the average patient three times. For those of us that get it, move on it, and become a part of it, will thrive in this business. Invention is the future opportunity."
How Did This Program Become So Successful?
Most of all, the value to the patient is what makes this program successful. Nobody wants to wait a week with aches and pains. One key component, critical to success, is seeing the patient quickly. This builds trust and patients are 'carrying the water for us', so to speak. Happy and pain free patients are telling their doctors, telling their friends and family, and now have a positive relationship with fyzicalfirst.com clinics. This technology presents a massive competitive advantage for physical therapy providers, and the first movers have the most to gain.
With a cooperative consisting of over 260 centers across 37 states, this program is growing rapidly. This is what FYZICAL does. Cooperative R&D allows the entire organization to keep up with the latest breakthroughs and advancements in technology, providing patients with the latest methods and modalities of prevention and intervention, while ensuring success in the business.